Patch Clamp Pipettes | Pre-Pulled Glass Micropipettes |Pre-Pulled Pipettes | PCPs-1; PCPs-1A; PCPs-1B
| | |
| --- | --- |
| Click to enlarge | |
Pre-Pulled Glass Micropipettes

Patch Clamp Pipettes
Pre-Pulled Glass Micro

pipettes: Part No. PCPs-1A
Highlights:

Pipettes are freshly fabricated for each order

Packaged for stable shipping and storage

Multiple applications including microfluidics, printing and patch clamping

Made in the United States

Pre-configured and custom configured micropipettes are available

Not fire polished

Multiple additional configurations are available at part MGM-1 (click here)
Please email to customersupport@fivephoton.com specifications including tip inner diameter, base outer diameter, length and with or without filament prior to ordering online for confirmation.
---
Standard Pre-Pulled Glass Micropipettes


Pre-Pulled Micropipettes - Standard Configuration. $225 for 30 pipettes, $610 for 100 pipettes

Parameters, Part No PCPs-1A:

Glass: thin wall borosilicate, with or without internal filament *

Total pipette length: Approx 5 cm

Outer diameter at tip (OD

tip

): 1.5 ± 0.3 µm
Inner diameter at tip (ID

tip

): 1.2 ± 0.24 µm

Taper length: 1-5 mm

Wall thickness at base: 0.17 mm

Outer diameter at base (OD

base

): 1 or 1.5 mm depending on request

Pipettes pulled on highly stable Sutter Instruments P-97 puller


Not fire polished
Standard Pre-Pulled Glass Micropipettes
| | | |
| --- | --- | --- |
| | Part No. | Cost (USD) |
| 30 pipettes | PCPs-1A(30f) with filament | $225.00 |
| 30 pipettes | PCPs-1A(30wf) without filament | $225.00 |
| 100 pipettes | PCPs-1A(100f) with filament | $610.00 |
| 100 pipettes | PCPs-1A(100wf) without filament | $610.00 |

Select pipettes on available options menu.
For additional configurations for pre-pulled glass micropipettes, see Part MGM-1 (click here).
* For online orders, please write with or without filament in the comments box
---
---
Custom Pre-Pulled Micropipettes: Part No. PCPs-1B
Cost: $225 - $330 for 30 pipettes, depending on configurations. Lead time: 3 - 14 days

To inquire and/or order custom pipettes, contact customersupport@fivephoton.com or Tel: 1.858.395.4026.

Applications: IVF, microinjection, focal saline application, cell collecting, voltage/current-clamp, single channel recordings, single cell pharmacology, microfluidics, microapplication on chip, molecular printing, micropipette applications.

Glass: Customer request

With or without internal capillary

Length: Customer request

Outer diameter (OD): Customer request

Wall thickness: Customer request

Tip outer diameter: Customer request

Tip inner diameter: Customer request

Pipette resistance (in standard saline): Customer request
Pipette-Cell Image: Adult rat trigeminal mesencephalic neurons.

---
Product Reference

Bonvini, Sara J., et al. "Transient receptor potential cation channel, subfamily V, member 4 and airway sensory afferent activation: Role of adenosine triphosphate." Journal of Allergy and Clinical Immunology (2016).
---
Representative Electrophysiology Recordings
3µM BRUS-3145 200nM omega-AgaIVA+5microM BRUS-3145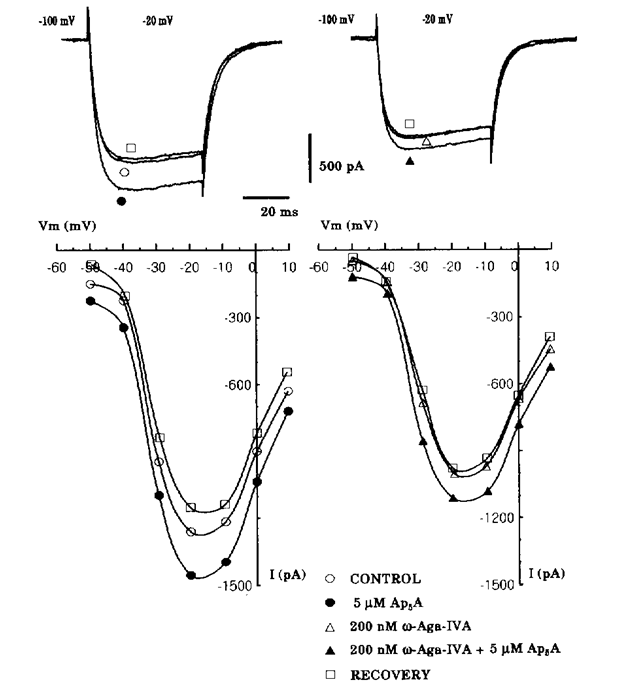 Figure Legends:
Upper panel demonstrates stability of Ca++ channels and potentiation effect of experimental substance BRUS-3145 recorded with patch pipettes produced by FIVEphoton Biochemicals isolated cortex neurons of rat. w-Aga-IVAdoes not block the BRUS-induced potentiation of the Ca++ channels. The cortex neuron which demonstrated the potentiation effect under the addition of 3mM BRUS-3145 was then incubated in 200nM w-Aga-IVA. Left panel: IVrelationships measured in control (open circles) and after application of 3mM BRUS-3145 (filled circles). Right panel: IV relationships measured after 3 min incubation in w-Aga-IVA (open triangles) and after subsequent application of 3mM BRUS-3145 (filled triangles). The recovery (squares) was obtained within 1 min in both cases.
Data – courtesy of Light Biologicals, Inc
---
Storage: Room temperature.

Lead time: 3 business days for standard pipettes.
Shipping recommendation: Domestic 3-day ($18 flate rate), 2-day Fedex ($28 flat rate) or domestic overnight delivery ($52 flat rate). Packing is stable for international delivery to South America, Canada, Europe, Middle East and Asia: please inquire with customersupport@fivephoton.com for international shipping rate.
kw. pre-pulled glass micropipettes, borosilicate micropipettes, micropipettes, pre-pulled pipettes, pre-pulled capillaries, glass needles.

Pipettes are manufactured to substantially conform with the descriptions on this webpage. However, the customer should note that variability exists in the manufacturing process, estimated from 10-20%, with respect to tip diameter, taper length, and tip angle within and between lots. The customer should communicate prior to ordering and manufacture any specialized requirements with respect to these parameters, including restriction to variability within and between lots. Specific applicability, fitness and merchantability are not warranted. Warranty compliance is met by replacement, full or partial refund on Fivephoton Biochemicals discretion.