Human Cyclophilin B (CYPB, PPIB, Peptidylprolyl Isomerase B) ELISA KITS Part No. hCYPB-ELISA(2X96T)
| | |
| --- | --- |
| Click to enlarge | |
Human Cyclophilin B (CYPB, PPIB) ELISA Kit

Fully pre-configured sandwich ELISA providing convenience, high sensitivity and selectivity.

Affinity purified capture antibody pre-coated on plate. Separate HRP conjugated detection antibody also provided.


Strip plate configuration that enables separate use and storage of sections of the ELISA plate.

Rapid assay format. 1hr incubation with both capture and detection antibody at 37oC.


Sensitive picogram colorimetric detection at 450 nm.

Assay range: 30pg/mL-1ng/mL.
Synonyms: PPIB; PPI-B; CYP-S1; CyP-B; SCYLP; Peptidylprolyl Isomerase B; Peptidyl-Prolyl Cis-Trans Isomerase B. Separate Cyclophilin B (CYPB) kits are available for human, rat and mouse (see Related Products tab).


View Protocol
---
| Price (USD) | Number of Kits | Number of Assays |
| --- | --- | --- |
| $635.00 | 1 | 96T (96) |
| $1150.00 | 2 | |

---
| Species Specificity | Standard Peptide Concentration | Assay Range |
| --- | --- | --- |
| Human | 1.35 ng/ml | |
---
Overview: Cyclophilin B (CyPB) is a cyclosporine-binding protein located mainly within the endoplasmic reticulum. Cyclophilin B has a signal sequence and is therefore associated with the secretory pathway and released in biological fluids.
Given that Cyclophilin B is a soluble protein in the secretory pathway, the primary locations to detect and assay its presence are in biological fluids, such as serum and plasma, cell culture supernatant, and cell and tissue lysates. Use the isolation methods suggested in the protocol manual to prepare samples using biological fluids and cell culture supernatant as a general guide. To assay in cell or tissue lysates, use a non-denaturing lysis buffer to solubilize membranes and suspend intracellular Cyclophilin B into the lysis buffer supernatant. The protocol associated with the FIVEphoton Biochemicals ELISA Lysis and Protein Extraction Buffer (Part No. ELSP-1) provides detailed instructions how to isolate intracellular proteins by cell lysis in preparation for ELISA.
---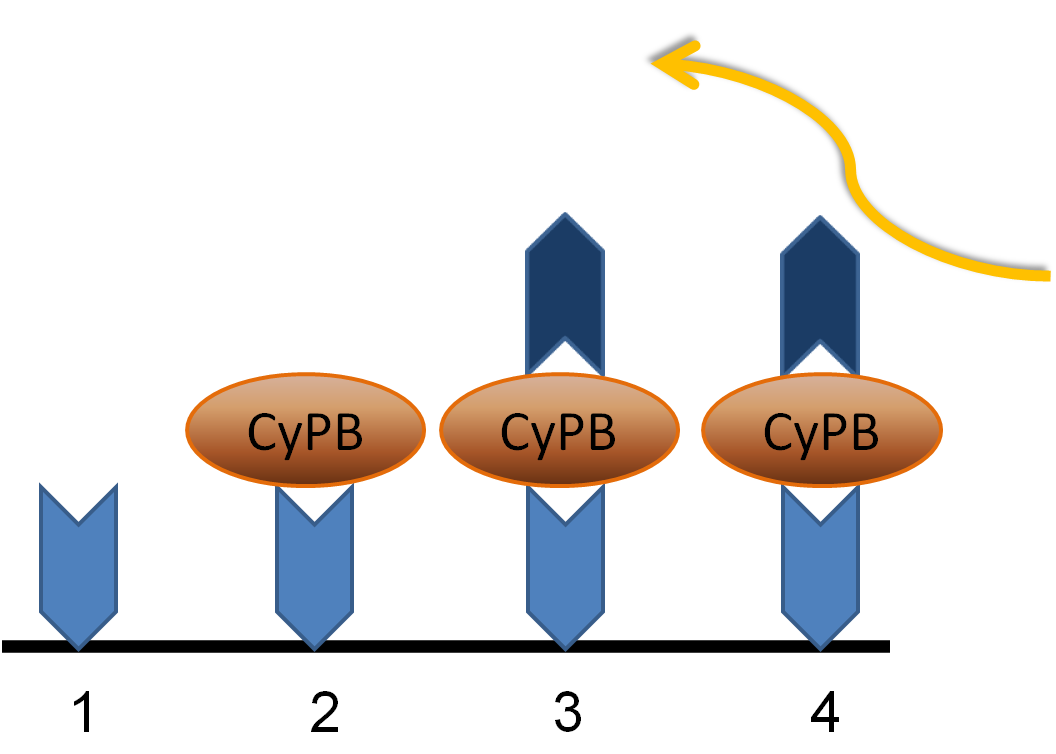 Protocol Synopsis of Sandwich Cyclophilin B (CyPB) ELISA
1. Equilibrate plate to ambient temperature.
2. Add sample, incubate 30 min - 1hr, wash.

3. Add HRP-Antibody, incubate 30 min -1 hr.

4. Add color reagents, incubate 15 min.

5. Add stop solution. Read Absorbance 450 nm.

---
Safety: Stop solution contains sulfuric acid. Avoid inhalation and contact.
Storage: 4oC. Expiration: 6 months after arrival. Enclose open strip plates.

Shipping: Overnight domestic Fedex delivery. Please inquire with salessupport@fivephoton.com for international delivery cost.