Patch Clamp Pipettes | Pre-Pulled Glass Micropipettes |Pre-Pulled Pipettes | PCPs-1; PCPs-1A; PCPs-1B
| | |
| --- | --- |
| Click to enlarge | |
Pre-Pulled Glass Micropipettes

Patch Clamp Pipettes
Please call to place orders. Due to the holidays and a large number of orders, the current lead time for orders placed from 11-26-2015 until 12-5-2015 is two weeks.
Pre-Pulled Glass Micro

pipettes: Part No. PCPs-1A
.

Highlights:

Pipettes freshly fabricated for each order

Precise fabrication to specifications

Packaged for stable shipping and storage

Multiple applications including microfluidics, printing and patch clamping

Made in the United States

Pre-configured and custom configured micropipettes are available

Not fire polished

Additonal configurations are available; see part MGM-1 (click here)
---
Standard Pre-Pulled Glass Micropipettes


Pre-Pulled Micropipettes - Standard Configuration. $210 for 30 pipettes, $595 for 100 pipettes

Parameters, Part No PCPs-1A:

Glass: thin wall borosilicate, with or without internal filament *

Total pipette length: Approx 5 cm

Outer diameter at tip (OD): 1.5 ± 0.3 µm

Inner diameter at tip (ID): 1.2 ± 0.24 µm

Taper length: 1-5 mm

Wall thickness at base: 0.17 mm

Outer diameter at base (OD): 1 or 1.5 mm depending on request

Pipettes pulled on highly stable Sutter Instruments P-2000 laser puller


Not fire polished
Standard Pre-Pulled Glass Micropipettes
| | | |
| --- | --- | --- |
| | Part No. | Cost (USD) |
| 30 pipettes | PCPs-1A(30) with filament | $210.00 |
| 30 pipettes | PCPs-1A(30) without filament | $210.00 |
| 100 pipettes | PCPs-1A(100) with filament | $595.00 |
| 100 pipettes | PCPs-1A(100) without filament | $595.00 |

Select pipettes on available options menu.
For additional configurations for pre-pulled glass micropipettes, see Part MGM-1 (click here).
* For online orders, please write with or without filament in the comments box
---
---
Custom Pre-Pulled Micropipettes: Part No. PCPs-1B
Cost: $210 - $330 for 30 pipettes, depending on configurations. Lead time: 3 - 14 days

To inquire and/or order custom pipettes, contact customersupport@fivephoton.com or Tel: 1.858.395.4026.

Applications: IVF, microinjection, focal saline application, cell collecting, voltage/current-clamp, single channel recordings, single cell pharmacology, microfluidics, microapplication on chip, molecular printing, micropipette applications.

Glass: Customer request

With or without internal capillary

Length: Customer request

Outer diameter (OD): Customer request

Wall thickness: Customer request

Tip outer diameter: Customer request

Tip inner diameter: Customer request

Pipette resistance (in standard saline): Customer reques
Pipette-Cell Image: Adult rat trigeminal mesencephalic neurons.

---
Representative Electrophysiology Recordings
3µM BRUS-3145 200nM omega-AgaIVA+5microM BRUS-3145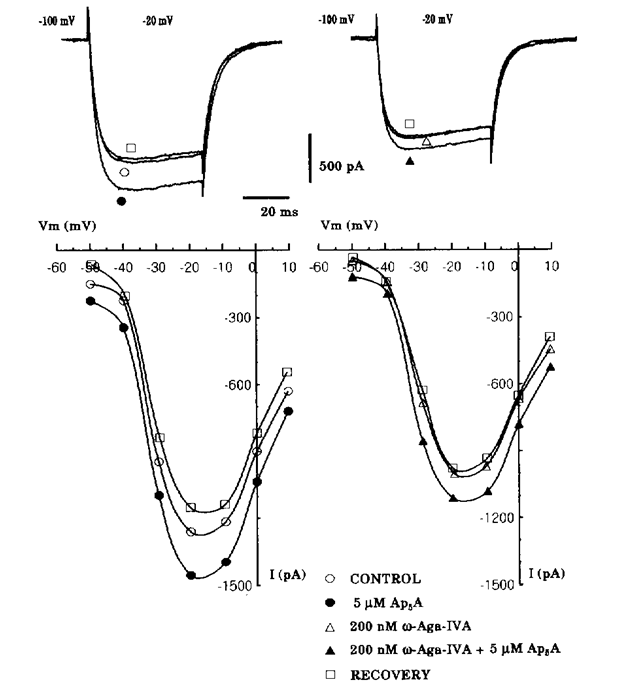 Figure Legends:
Upper panel demonstrates stability of Ca++ channels and potentiation effect of experimental substance BRUS-3145 recorded with patch pipettes produced by FIVEphoton Biochemicals isolated cortex neurons of rat. w-Aga-IVAdoes not block the BRUS-induced potentiation of the Ca++ channels. The cortex neuron which demonstrated the potentiation effect under the addition of 3mM BRUS-3145 was then incubated in 200nM w-Aga-IVA. Left panel: IVrelationships measured in control (open circles) and after application of 3mM BRUS-3145 (filled circles). Right panel: IV relationships measured after 3 min incubation in w-Aga-IVA (open triangles) and after subsequent application of 3mM BRUS-3145 (filled triangles). The recovery (squares) was obtained within 1 min in both cases.
Data – courtesy of Light Biologicals, Inc
---
Storage: Room temperature.

Lead time: 3 business days for standard pipettes.
Shipping recommendation: Domestic 3-day ($15 flate rate), 2-day Fedex ($35 flat rate) or domestic overnight delivery ($52 flat rate). Packing is stable for international delivery to South America, Canada, Europe, Middle East and Asia: please inquire with customersupport@fivephoton.com for international shipping rate.
kw. pre-pulled glass micropipettes, borosilicate micropipettes, micropipettes, pre-pulled pipettes, pre-pulled capillaries, glass needles

| | |
| --- | --- |
| Document | Download Link |
| Specification Sheet - Part PCPs-1A | click here |
| Specification Sheet - Part MGM-1 | click here |