CHAPS Lysis and Immunoprecipitation Buffer |CHAPS Buffer 1X | FIVEphoton Biochemicals No. CIB-1
| | |
| --- | --- |
| Click to enlarge | |
CHAPS Lysis and Immunoprecipitation (IP) Buffer

CHAPS cell lysis and immunoprecipitation buffer with 0.5% CHAPS,
HEPES, NaCl, 1X Solution. 60ml or 120ml volumes.

CHAPS Lysis and Immunoprecipitation Buffer formulations that are available:
Formulation 1: CHAPS buffer, pH 8.0.

Formulation 2: CHAPS buffer, pH 7.4.

Formulation 3: CHAPS buffer, pH 6.0.
Addition of 1mM EDTA or 1mM CaCl2 can also be requested to these formulations. Specify the formulation by using the pull-down menu on online orders.

In addition to direct orders, this item can be purchased on fishersci.com and shipped directly to the customer from Fivephoton Biochemicals: fishersci.com item no. NC0221482.

Strong cell lysis and protein extraction capacity while preserving protein conformation and protein-protein interaction for co-immunoprecipitation (Co-IP) analysis.

Effective as a stand alone reagent for cell lysis and protein extraction.

Contains a non-amine buffer (HEPES) enabling cross-linking with NHS-ester derivatives.


Compatible with Bradford, Lowry and BCA protein assays.

60 ml volume: Suitable for two hundred 10-cm culture plates, or six hundred wells in 6-well dishes. 120 ml volume is also available.


Storage: 4

o

C. Ships at ambient temperature.
---
Properties of CHAPS Lysis and Immunoprecipitation Buffer
CHAPS is a zwitterionic detergent with strong membrane dissolution capacity while maintaining protein conformation and protein-protein interaction. The CHAPS reagent provides an effective stand alone buffer for cell lysis and protein extraction as well as a reagent suitable for downstream immunoprecipitation-pull down approaches.

---
Optional Formulations, Ingredients and Volumes

| | |
| --- | --- |
| Volume | Cost |
| 60 ml | $72.00 |
| 120 ml | $120.50 |
CHAPS Buffer pH Options*

| | |
| --- | --- |
| Part No | pH |
| Part No. CIB-1-8.0 | pH 8.0 |
| Part No. CIB-1-7.4 | pH 7.4 |
| Part No. CIB-1-6.0 | pH 6.0 |
*All pH's are offered at the same price. See Available Options menu to order.
CaCl2 and EDTA Options*
a) Optional additon of 1 mM EDTA

b) Optional addition of 1 mM CaCl2

*Addition of CaCl2 or EDTA does not affect price. See "Available Options" menu to order.
The addition of calcium chloride to the CHAPS reagent preserves calcium dependent protein-protein interaction, whereas the addition of EDTA abrogates the interaction. The CHAPS immunoprecipitation reagent is offered with or without 1 mM calcium chloride and/or 1mM EDTA to investigate the roles of calcium in protein-protein interactions.

(*Note: The CHAPS Buffer with formulations containing calcium chloride, or EDTA, have been employed to characterize calcium dependent chaperone protein interactions, such as with calnexin or calreticulin (see references 2-6 below).

---
Representative Data with CHAPS Immunoprecipitation and Cell Lysis Reagent (pH 8.0)

Co-immunoprecipitation (Co-IP) of a trafficking protein receptor (COPII) with a cation channel (TRPC-6). HEK293 cells were co-transfected with plasmid DNA encoding TPRC-6 and a HA epitope tagged component of COPII (sec24). Cell lysis and immunoprecipitation were performed in CHAPS Buffer as summarized in the product manual. Western blotting (WB) was performed with the antibodies indicated in the figure.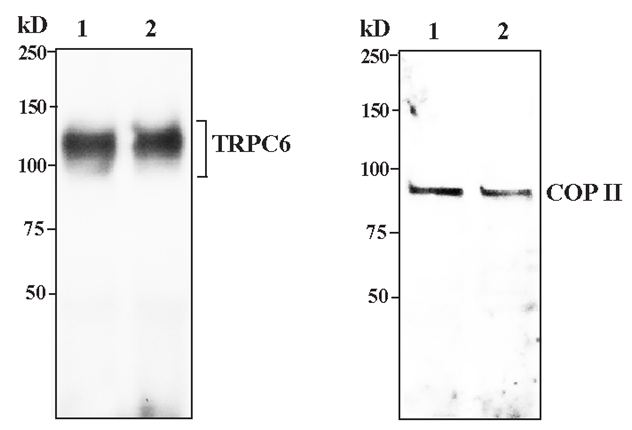 IP: Anti-HA COPII IP: Anti-HA COPII
Figure 2
Co-immunoprecipitation (Co-IP) of a calcium binding protein with a multisubunit target protein 1 employing the FIVEphoton CHAPS immunoprecipitation reagent. A larger amount of target protein 1 associates with the calcium binding protein when expressed alone, as compared to co-expression (and presumed assembly) with protein 2. Protein 1 reveals higher molecular weight forms due to post-translational modifications.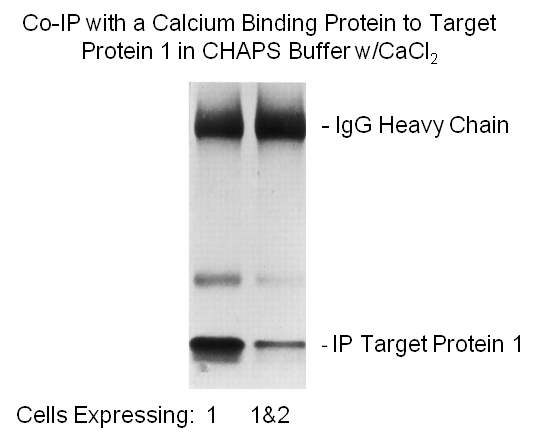 ---
Outline of immunoprecipitation methodology with CHAPS Buffer (see protocol for details)


---
Product Reference

Link to articleCell Surface Protein Disulfide Isomerase Regulates Natriuretic Peptide Generation of Cyclic Guanosine Monophosphate. Plos 1. DOI: 10.1371/journal.pone.0112986.
References on CHAPS Immunoprecipitation and Cell Lysis
Darby PJ, Kwan CY, Daniel EE. 2000. Caveolae from canine airway smooth muscle contain the necessary components for a role in Ca(2+) handling. Am J Physiol Lung Cell Mol Physiol 279: L1226-35.

Farmery MR, Allen S, Allen AJ, Bulleid NJ. 2000. The role of ERp57 in disulfide bond formation during the assembly of major histocompatibility complex class I in a synchronized semipermeabilized cell translation system. J Biol Chem 275: 14933-8.

Ora A, Helenius A. 1995. Calnexin fails to associate with substrate proteins in glucosidase-deficient cell lines. J Biol Chem 270: 26060-2.

Pieren M, Gali C, et. al. 2005. The use of calnexin and calreticulin in cellular and viral glycoproteins. J Biol Chem 280: 28265-71.

Zhu X, Peng J, Chen D, Liu X, Ye L, et al. 2005. Calnexin and ERp57 facilitate the assembly of the neonatal Fc. Journal of Immunology 175: 967-76.
---
Accessory Products

Safety: Irritant. Avoid skin and eye contact and ingestion.
Storage: 4oC.
Shipping: Ambient temperature shipping. Domestic Fedex Ground ($8:00 flat rate), 2-day (flat rate $24) or Fedex overnight delivery (flat rate $38). International delivery is also available. Please inquire for international shipping rates.